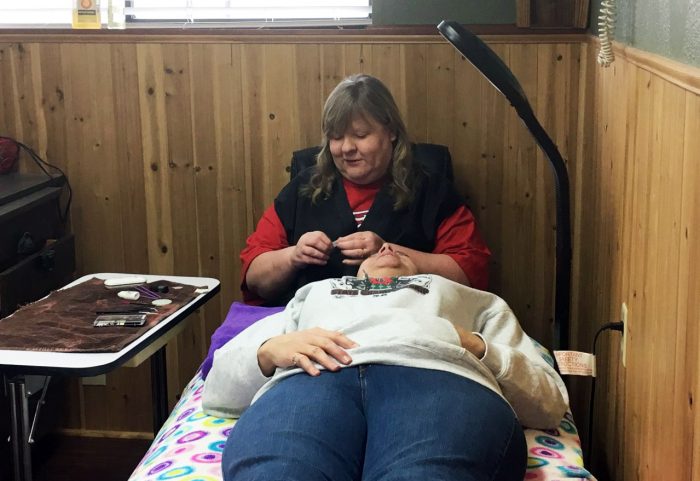 Why settle for box dyes and kitchen haircuts when you can come to Hair West and get totally personalized salon services for a great price? Our hair stylists in Uinta County, WY offer all of the cut, color and styling services you need to walk out feeling like your best self:
Haircuts:
We offer both men's, women's and children's haircuts in Uinta County, WY. Our professional stylists are up on all of the newest trends and experienced when it comes to all of the classic cuts you love. Whether you want the usual or something brand-new to you, we'll create the perfect look!
Coloring:
Whether you're touching up your roots, hiding a few grey hairs or want to reinvent your look with a bold new hue, we'll make sure you walk out with salon-caliber color.
Facial waxing:
Say goodbye to those light upper lip hairs or the unwanted fuzz on your chin! We'll make sure when the light hits your face, it shines smooth and silky. We're also happy to clean up your eyebrows and make sure your skin is baby soft.
Extensions:
Want long hair, but don't want to wait years for it to grow in? We'll open up your styling options with quality extensions, giving you the length you want in a color that perfectly matches your natural hue.
Eyelash extensions:
Stunning lashes can't be ignored! If you're looking to impress or want a boost of confidence, let us provide eyelash extensions that will turn heads. We'll make your eyes the focal point of your entire look.
Perms:
Ready to unleash beautiful, bouncy curls on the world? Come to us for a perm and we'll put some spring in your hairstyle! We'll work with you to choose the right curl and the right style, so you love the perm you leave with.
Barber:
For our gentlemen clients, we offer all of the barbershop services you expect for precision grooming. Come to us for a line-up, a fresh fade, a quick trim and anything else you need to look your very best.
Brands We Recommend
A salon-caliber look is one that's backed up by best-in-class products. Come to us for access to all of the following proven brand name styling products:
American Crew
Chi
Hempz
Matrix
Nioxin
Paul Mitchell
Pravana
Redken
Retro
Scrupels
Schedule an Appointment
Ready to schedule your appointment with Hair West? Contact us today at 307-789-7165 and we'll get you on the books for a cut and style that'll leave you feeling confident and happy!